How the Affiliate Program Works
When you become an affiliate, we'll provide you with a special affiliate link. You can put the affiliate link on your website or social networks and refer businesses in need of email marketing software to Betasend.
When a new user visits, and signs up at Betasend via your affiliate link our system instantly identifies that they've come from you. When a purchase is made by your referral you will automatically receive commission!
Recurring Income
When you refer someone to betasend, you'll earn 100% Commissions Upfront, Then 50% For Life on any recurring payments they make. it's that simple.
Example:
Lets assume that You refer Anna to us, and she signs up at $549 per month. You will earn $549 on the first month then $274.5 per month for life as long as she remain on that plan.
Now here is the fact, If we do the math we conclude that just by referring Anna to us you will be earning $3,568.5 per year! it is also $35,685 per year per 10 customers like Anna. Plain and simple.
Cookie
365 day cookie duration.
Promotion Ideas
Here are a few promotion ideas that works to get you started:
1. Write a Betasend vs. _________ (whatever tool you are most familiar with or personally switched from) post and publish that on your blog and send it out to your email list.
2. Make videos tutorial about Betasend and share your affiliate link.
3. Add details about Betasend, along with your affiliate link, to any pages or posts you have on how to start a blog or grow an email list.
4. Add Betasend to your Resources page on your blog as your recommended email marketing provider.
Affiliate Dashboard
We'll provide you with a special Affiliate Dashboard where you can monitor your referral's signups, purchases and the subsequent payments to you.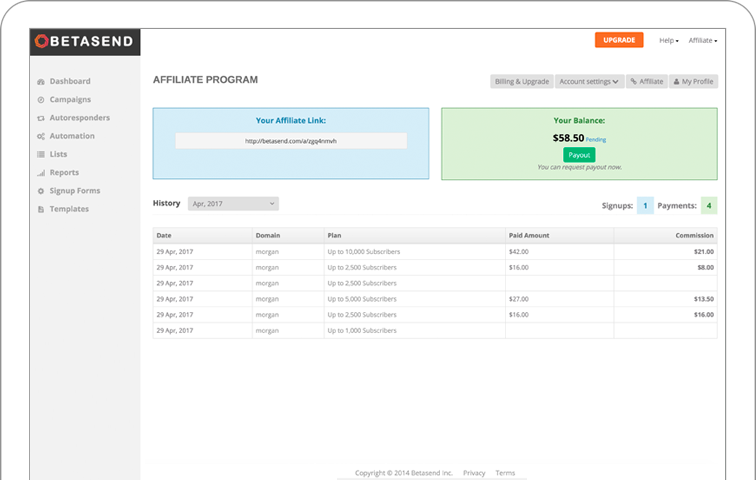 Payout on Request
Once you've made commissions you can request a payout for the current month on the 15th of next month. Example: you can request a payout for May earning on Jun 15th!